Are you ready to graduate?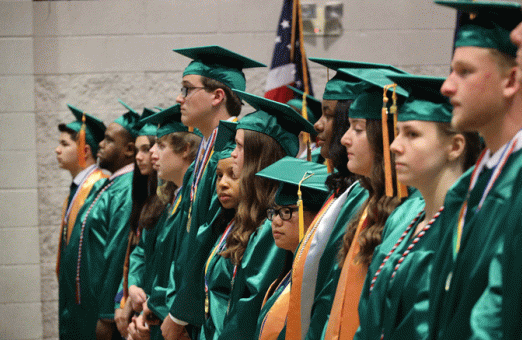 Summer 2023 Graduation Application Now Open!
We'll take you through the process -- from applying for graduation to receiving your diploma.
---
Graduation Application Deadline:
| | |
| --- | --- |
| Term | Deadline Date for Applications |
| Fall 2022 | October 6, 2023 |
| Spring 2023 | March 4, 2023 |
| Summer 2023 | June 6, 2023 |
Graduation Requirements
You must complete all program requirements and elective courses required as specified in the college catalog for that curriculum. The catalog used to determine graduation requirements is the one in effect at the time of the student's acceptance into a curriculum or any subsequent catalog as selected by the student.
If you have transferred credits from other colleges, make sure that you have completed 25% of your credit hours at Paul D. Camp Community College.
You must earn a grade point average of at least 2.0 in your curriculum. For specified programs, a grade point average of at least 2.5 is required. Honor eligibility is based on your cumulative grade point average.

Before you submit your graduation application, meet with your academic counselor/advisor to ensure you:
Are listed in the correct program plan and catalog year
Have completed or are registered for all remaining course work required for your plan
Apply for the appropriate graduation term
Verify/update your MyCamp mailing address
Are you READY to Graduate?
Have you completed at least 80 percent of a degree/certificate program?
Have you completed 25% of your credit hours at Camp Community College
Is your grade point average 2.0?
If yes to the questions above, reach out to your Faculty Advisor and access your Academic Advisement Transcript.
How to Access my Academic Advisement Transcript?
What Happens Next?
Once you submit your graduation application, you will receive a graduation status message up to six weeks after the application deadline to your VCCS email account. The graduation status message will indicate one of the following:
Honors Designation
3.20 - 3.49: Cum Laude (with high honor)
3.50 - 3.79: Magna Cum Laude (with higher honor)
3.80 - 4.00: Summa Cum Laude (with highest honor)
Spring honors cannot be designated until final grades are posted and degrees/certificates are awarded. Honors designations will be posted to the student's transcript and diploma/certificate.
There is no application fee. If a student files an application for graduation, but does not graduate, the student must resubmit another application for a later graduation date.
If you are applying for more than one degree or certificate, make sure you check each credential before submitting the application. You can only submit one application per semester.
---
Commencement
CCC holds a Commencement Ceremony once a year in May. If you submitted a graduation application for the Summer, Fall term or Spring term and have completed the requirements to graduate, you can participate in the May commencement.
While there is no fee for graduation, students must purchase a cap and gown for the ceremony.
Details about the 2023 Commencement ceremony will be forthcoming.
The Commencement will be held on May 12, 2023.
Regalia
Regalia is mandatory for participation in Commencement.
Communication will be sent out via student email to all potential graduates when regalia is ready to be ordered.
Graduation regalia can be purchased in the Follett Bookstore. The Bookstore personnel will make sure you get the appropriate cap, gown, and tassel for graduation.
---
Distributions of Degrees, Certificates, and Career Studies Certificates
In approximately 10 to 12 weeks after each semester ends, the graduate will receive a notice via their VCCS email notifying them when their degree or certificate is ready for pick-up in the Office of Admissions/College Registrar Office. All financial obligations with Camp Community College must be cleared before picking up degrees and certificates.
Appointment request are processed within 36 business hours from receipt of the request, except orders placed on weekends, holidays, and peak times during the semester.
If you are requesting Degree pick-up at the Suffolk or Smithfield center, make appointments at least 24 hours from the time you make the appointment.
To pick up your degree please complete the Diploma pick-up form.