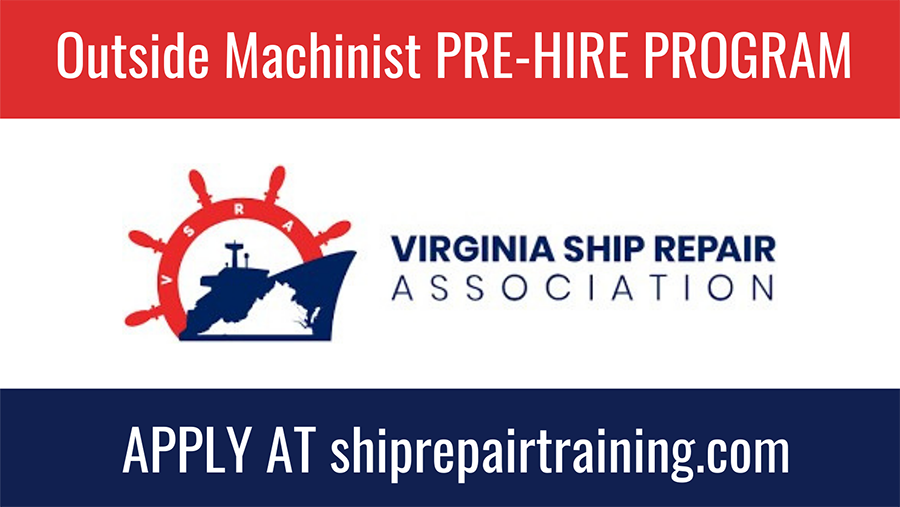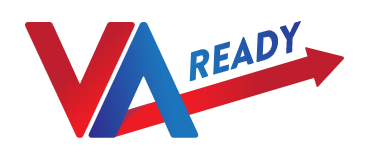 Outside Machinist – VSRA Pre-Hire Program*
Associated Credential: Outside Machinist Level 1*
Dates:
June 5 – June 16, 2023 (T. Willis)
July 10 – July 21, 2023 (E. Wilkerson)
August 7 – August 18, 2023 (T. Willis)
September 5 - September 18, 2023 (9/4 Holiday No Class) (E. Wilkerson)
October 2 – October 13, 2023 (T. Willis)
October 30 – November 10, 2023 (E. Wilkerson)
November 27 – December 8, 2023 (T. Willis)
Instructors: E. Wilkerson
Days/Times: Mondays – Fridays, 7:00 AM – 3:30 PM
Location: Camp Hobbs Suffolk Campus 271 Kenyon Road Suffolk, VA 23434
Tuition: $2,010
WCG Price: $670

NOTE:
Please wear steel-toe shoes to class and bring a notebook. Pencils are provided.
Lunch can be brought in a small cooler (no refrigeration available) or students may leave Campus to buy their lunch.
The course is 2 weeks (80 hours) long designed to prepare candidates to enter the outside machinist department at NNS. The course will cover safety, an introduction to a variety of tools and machinist skills, a validation of basic machinist competencies, and an evaluation of employability skills. This program is designed to be 90% hands-on, focusing on a candidate's ability to follow verbal and written instruction, display manual dexterity consistent with the craft, accomplish specific tasks in a reasonable time, and perform all activities in a safe manner.
Student must also attend OSHA 10 training class conducted by the Virginia Ship Repair Association (VSRA) as part of completion of this course. Dates to be determined by VSRA.
*Students for this class will be selected by the Virginia Ship Repair Association (VSRA) participating member companies.
To apply, visit shiprepairtraining.com.
In a partnership with the Virginia Ship Repair Association, students selected for this program may enter into direct employment with a partner employer of VSRA.
For more information, call Camp's Workforce Development Center at (757) 569-6050.
---
Job Outlook –
As of the fourth quarter of 2021, total employment in the Hampton Roads Workforce Region for Machinists was 1,160.
There is projected annual demand for 113 new entrants into this occupation.
(Source: Jobs EQ Occupation Report, April 2022)
Earnings in the Hampton Roads Workforce Region –
2021 wages for Machinist careers:
Entry Level $38,400 – Mean $53,700 – Experienced $61,300